The SFVDS Political Action Committe is a component of the San Fernando Valley Dental Society. For more information about all our programs please visit our main website here.
We also support our own charitable foundation. For more information please visit its website here.
---
SFVDS POLITICAL ACTION COMMITTEE
In July, 2010, the Board of Directors of the San Fernando Valley Dental Society created a local Political Action Committee to help support candidates and issues favorable to dentistry.
While the formal name of this committee is the San Fernando Valley Dental Society Political Action Committee, the shortened nickname is Val-D-PAC.
Val-D-Pac files all necessary paperwork with the California Fair Political Practices Commission and the LA County Political Reform Division in compliance with all reporting laws as a sponsored PAC.
Val-D-PAC has already supported one of our members in her successful run for Glendale School Board,  two successful candidates who ran for LA City Council, and CDA member Dr. James Woods' bid for an assembly seat representing parts of Northern California.   If you know of candidates or issues that you believe Val-D-PAC should support or oppose, please let us know right away so that the Val-D-PAC board can take your recommendations under consideration and begin to act on behalf of our membership.  Information on candidates or issues should be sent to the Executive Director of the San Fernando Valley Dental Society.
If you would like to make a contribution (not tax deductible) to Val-D-PAC, please call us at ph 818-576-0116 or click on the link below to download the contribution form, which can be mailed or faxed to the San Fernando Valley Dental Society central office at fx 818-576-0122.
---
The SFVDS is now offering rental a Board Room and Multi-Purpose Room for rent. Click here for details  More Information →
---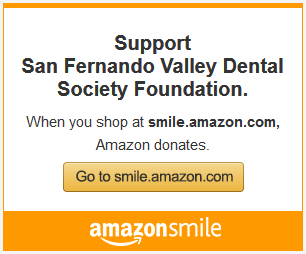 Simply click the picture above, log in and ​a portion of every purchase you make will go to help the SFVDS Foundation.